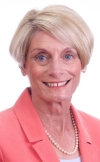 Carol Cashman is a former Brisbane City Councillor and is currently a Consultant, specialising in Local Government and Community Engagement. As a qualified community engagement practitioner, Carol offers her knowledge and expertise to companies and governments wishing to undertake effective and professional community engagement.
Carol served as a Brisbane City Councillor for 16 years.  At the time of her resignation in June 2007 she was Lord Mayor Campbell Newman's spokesman (and unofficially Co-Chair) of Planning and Development and the Leader of the Liberal Team in the Council (Leader of the Opposition).
She has a sound understanding of governance and the policies and procedures of a large government organisation such as the Brisbane City Council.  Carol also has a good knowledge of community issues and the Brisbane community as a whole.
As the Lord Mayor's Planning and Development spokesman, Carol successfully developed and implemented her team's policy of Neighbourhood Planning, which significantly and positively changed the way that the Council involves the community in planning for future growth of the city.  This involves planning from the city wide perspective to working with local communities on detailed plans.  The first stage of the project was awarded the International Association of Public Participation award for the Most Robust Public Participation in 2006.
Outside of the Council, Carol has previously been a director of a small company, Tasqueforce which assisted local companies to export their products overseas through international trade exhibitions in Singapore, Indonesia and Germany.
Carol has combined her passions for communication and community engagement, her organizational, management and leadership skills with her extensive experience in business and government.