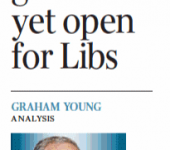 The odds are that Labor will win the Victorian election, but there is a narrow gate through which the Liberal Nationals could pass to government. It could also swing open for the Greens, giving them a cross-bench veto.
According to the results of our online virtual focus group of 100 Victorian voters, Labor and Greens voters are fairly happy with the Andrews government, and Liberal voters are only moderately happy with the Guy opposition.
This puts the government in poll position, but it doesn't mean that there is a consensus on what the government ought to be doing.
On the left climate change, and social services are important, while on the right it is crime and political correctness. Both sides share a concern for sustainable development, a high profile issue in Australia's fastest growing metropolis, and this manifests in more public transport on one side, and better roads on the other.
The result of this split is that 49% of participants thought the state was heading in the right direction, while 42% disagreed, with the balance sitting on the fence. Again, this is a relatively strong position for the government which also has an advantage in leadership. Daniel Andrews has a so-so approval rating of -1% (44% are favourable and 45% unfavourable), but Guy's is -24% (28% favourable and 52% unfavourable).
Drilling down on those figures, 83% of ALP voters approve of Andrews (including 44% who strongly approve). For Guy only 57% of Liberal voters approve, and only 8% of those approve strongly. The Andrews tribe is united, the Guy tribe troubled.
Head to head 55% prefer Andrews as premier to 45% who prefer Guy, which is more or less the two-party preferred margin, so Labor gets a only a small percentage edge from the personality battle.
Ethical issues affect both leaders.
Labor has its "Red Shirts" scandal, where campaigners were hired as electorate staff, in a fraud on public finances. Now the premier is instructing his members not to cooperate with investigators. This plays into the opposition's law and order campaign.
Liberals have Matthew Guy's past performance as planning minister where he massively increased allowable development densities on the Fishermens Bend land on the CBD fringe, enriching a number of developers, some of whom are Liberal Party donors. He was also embroiled in a rezoning scandal on Phillip Island which cost the public $2.5 million.
This plays into concerns about bribery and corruption and over-development.
That both sides have ethics problems will tend to neutralise honesty as a vote decider, but this is countered by the fact that 72% of voters expect the Daniels government to be returned.
This means that in a lot of minds the choice isn't between two potential dishonest premiers, but between a dishonest almost-certain premier, and a dishonest probable opposition leader.
So Andrews' ethical laxity is more dangerous to Labor than Guy's is to the Libs, because Andrews is more likely to be in a position of power, where it matters.
This is even more likely because only 50% of voters wants Labor to win or think it deserves to win (versus 46% who think the Liberal Nationals deserve to win).
This is where the narrow gate for both the Liberals and Greens appears.
Labor has more seats at risk on slimmer margins than the Liberals, so is more vulnerable to a protest vote, which is more likely when the incumbent appears set to win, but has some negatives and doesn't appear to be trying too hard.
Law and order and cultural issues are likely to alienate some traditional Labor and swinging voters in the outer suburban ring. This is where the nationalists, who are the heartland of conservative politics, live, and where the election is likely to be won. Labor's pitch to them is the Suburban Loop train project, which will arrive by 2050. The Liberals are promising better road networks, which will arrive sooner, and are culturally aligned, which is probably more important.
Wanting Labor to move further left is likely to be a driver in the inner suburban ring where the cosmopolitans live. This is where power may shift to the Greens who are bidding 100% renewable electricity by 2030, bans on pokies, and cessation of native timber logging, funded by taxes on banks and property developers.
A strongly negative campaign against Labor by Greens and Liberals would be mutually reinforcing, and peel votes off left and right, from voters who are sure neither of them will be the government.
Labor is no doubt aware of these tactical weaknesses and is likely to spend the last week talking up the dangers of a hung parliament or a change of government.
The fates of governments hang on such foibles of public opinion. Jeff Kennett, John Brumby and Denis Napthine all fell victim to some iteration of the protest vote.