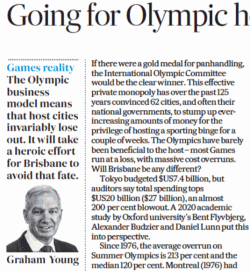 If there were a gold medal for panhandling, the International Olympic Committee would be the clear winner.
This effective private monopoly has over the past 125 years convinced 62 cities, and often their national governments, to stump up ever-increasing amounts of money for the privilege of hosting a sporting binge for a couple of weeks.
International Olympic Committee president Thomas Bach, right, bumps elbows with AOC president John Coates and Queensland Premier Annastacia Palaszczuk. Getty
The Olympics have barely been beneficial to the host – most Games run at a loss, with massive cost overruns. Will Brisbane be any different?
Tokyo originally budgeted $US7.4 billion, but Japanese government auditors have said total spending tops $US20 billion ($27 billion), an almost 200 per cent blowout. A 2020 academic study by Bent Flyvbjerg, Alexander Budzier and Daniel Lunn at Oxford University put this into perspective.
Since 1976, the average overrun on Summer Olympics is 213 per cent and the median 120 per cent. Montreal (1976) had the worst result, with a 720 per cent increase over budget, resulting in a debt that took 30 years to repay. Rio (2016) was the next highest with 352 per cent.
The study suggests that there are fat-tail, unquantifiable, and unpredictable risks with the Olympics. One of the most significant is that the IOC's interests are misaligned with those of the host city. The IOC is effectively a franchiser. It gains income from broadcast and sponsorship rights, clips the tickets for 10 per cent and distributes the other 90 per cent to the host city (which gets 50 per cent), with the rest distributed to local Olympic committees and promotional schemes.
The 10 per cent is generous to say the least, with the IOC's 500 staff, representing 96 per cent of administrative costs, being paid an average of $274,228 a year in 2019.
Its income depends on as large and grand an event as possible, so as to stimulate the appetites of broadcasters and sponsors, and is directly proportional in size to this appetite. This leads to pressure on the franchisee, the host, to improve and expand what is delivered.
With no skin in the game, demands from the IOC escalate, while the host has little ability to mitigate the cost overruns – effectively the losses.
If you want to know what the IOC thinks of Olympic hosts, you need only look at the way Australian Olympic Committee president John Coates berated Queensland Premier Annastacia Palaszczuk in front of the media pack.
Coates is the ultimate insider. Not only is he presient of the AOC (a position he has held for the past 31 years), he is also vice-president of the IOC (since 2013), and reportedly earned $689,364 for his Australian role alone in 2015, a touch more than 50 per cent higher than the $427,500 earned by the Queensland Premier.
So he has been on both sides of the Brisbane deal in a situation it is hard to see occurring anywhere else in politics or commerce, and gives an idea of how the IOC conducts business. Coates excusing himself at times to avoid conflicts of interest seems enough to keep everyone happy. And it helps that Brisbane was the only bidder anyway.
To be fair to the IOC, it is aware of the expense of the Olympics and is planning to reduce costs under its "Olympic Agenda 2020". However, it still takes none of the financial pain, and where it has trialled some of these strategies – Rio, the 2018 PyeongChang Winter Olympics, and Tokyo – the budget overruns have still never been less than 100 per cent.
Brisbane's budget for the Olympics is $5 billion. This would make it the cheapest since the Athens Olympics, and even cheaper than the 2000 Sydney Olympics, which sounds ambitious. According to the Flyvbjerg study, the amount has at least a 20 per cent risk of being $15 billion or higher.
Brisbane is in a better position than most. Three years ago it staged the Commonwealth Games, and according to modelling done for the Queensland government by Griffith University, the Games cost $1.6 billion, or 26 per cent over budget, a creditable result.
Yet this Queensland government is showing poor project management skills, with the $5.4 billion Cross River Rail blowing out to $6.9 billion (disguised through a sneaky privatisation of the stations on the route), and another $1 billion may now be added to that because of changes to the track and station locations. That's a 46 per cent cost overrun.
And the state government has also done a sweetheart deal with the CFMEU for government construction, meaning that a carpenter could earn $254,788 for a 50-hour week, or $74,688 more than a government backbencher. That's bound to make the eye-wateringly expensive $1 billion redevelopment of the Gabba to provide another 4000 seats and a warm-up athletics track even more expensive.
What is the upside?
Typically, governments claim employment and economic benefits, and modelling is conducted to prove these claims, but can we find any real-world statistics to justify projections?
The Commonwealth Games has to be the best gauge for Queensland's likely Olympics performance, and the Griffith University study claims a modelled increase of 1.266 million visitors.
The real measure of this should be overseas travellers, otherwise it is just an exercise in stealing domestic tourists from other states.
In 2018 there was an Australia-wide increase of only 5 per cent in short-term arrivals, the worst year since 2013. The legacy effects were non-existent, with only 2 per cent the year after, and no point bothering with 2020 and 2021.
Griffith also forecast an increase of $2.5 billion in gross state product over the period 2012-22.
Yet since 2012 Queensland's GSP has grown only 14 per cent, lower than the Australian average of 17.2 per cent, and well behind the growth gold medallist Western Australia on 19 per cent.
Perhaps if they had followed the sandgropers and concentrated on a few more mines, rather than the Games, things would have been different.
The pitch for the Olympics claims 5000 jobs a year will be created until the Olympics, and 130,000 in the year they occur.
Just how good a job generator that will be can easily be measured by comparing the Olympics with the Adani mine, which will employ 2000 a year not just for 10 years, but for 60. So one mine will generate employment of not much less than the Olympic year. There are nine of them proposed for the Galilee Basin.
They will also pay hundreds of millions each year in royalties, on top of GST, stamp duty, and payroll tax, plus the flow-on employment in service industries such as education, health and retail. All this without the government risking a single dollar.
Which highlights the real risks in the Olympics. Bidding for them represents a failure in governance.
If you need a sporting festival to justify building adequate roads and public structure, then you are not putting your electors first.
If you are going to take hard-earned taxpayer dollars into a high-risk undertaking with uncertain and probably negative outcomes, you have no respect for the hard work that has gone into those taxes.
And if you are going to sign one of those Olympic contracts, knowing the dire history of mismanagement and failure that almost inevitably follows them, you have no sense.