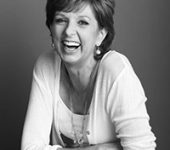 Who would have thought the "stronger" sex could get itself on the wrong end of the gender wars? According to Bettina Arndt, pioneering sex therapist, journalist and clinical psychologist, now a men's rights advocate, while it might have been a man's world once, for many men, that was yesterday.
Did you know that 19th century suffragettes had a campaign slogan: Votes for women, chastity for men? Bettina argues the #MeToo movement is simply the latest salvo in a centuries' long battle by feminists to rein in male sexuality.
And what about the politics of cleavage? She suggests women's right to dress is simply about women flaunting their sexual power over men.
Bettina will raise some very worrying issues impacting on the lives of men. She argues that our laws are being tilted to favour female "victims" at the expense of due process rights for men. That across the country men are being deprived of their homes and children when false allegations of domestic violence are used as weapons in family court battles. And she'll explain how the fake rape crisis on our campuses is being used by activists to get universities to act as judge and jury in date rape cases – Bettina has been supporting an Adelaide University PhD student who has spent the past eight months under investigation by a university committee.
Don't agree with her? Can't believe any of this could be right? There'll be questions after and lots of opportunity to probe, discuss and analyse over a friendly drink and food.
| | |
| --- | --- |
| When: | May 2, 2018, 6:00 for 6:30 |
| Where: |  Alliance Hotel, 320 Boundary Street, SPRING HILL 4000 |
| Cost: | $55 General Admission, $45 AIP Members, $20 Students. |
| Bookings: |  Click here |