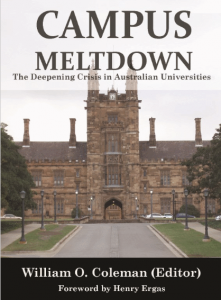 William Coleman has gathered an eminent group of academics to discuss just what is happening in their sector. Some University Vice-Chancellors are wont to proclaim that everything is as it should be, but the Anglo-Sphere is being swept by a wave of de-platforming, safe spaces, and postmodern virtue signalling which is undermining the very idea of a university.
Where once the university was a place to explore ideas, to be confronted and confront, now student activists are demanding that the university teach only what they want it to teach. And administrations and academics are caving in. Indeed some academics are in the vanguard, as demonstrated by the revolt against the teaching of Western Civilisation in any alliance with the Ramsay Centre.
To book click here.
In the foreword Henry Ergas draws on Marx to understand the phenomenon:
Somewhere Marx remarks that the bourgeoisie in its decline reproduces every irrationality against which it once fought. And the universities, he might have added, become the vehicle by which the rot is legitimised, spread and entrenched – not least by those who proclaim themselves Marxists.
Contributors include Steven Schwarts, James Allan, Michael Sexton, David Martin Jones, Barry Spur, Gigi Foster, and Steven Chavura.
When:
October 30, 2019 at 6:00 for 6:30 pm

Where:
AIP Auditorium, Unit 2B, 50 Logan Road, Woolloongabba Q 4102
(Plenty of parking either on site or on street)

Price:
General: $25 ($20 early bird)
Member: $20 ($15 early bird)
Student: $10 ($5 early bird)

Booking:
To book click here