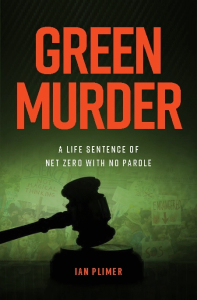 In this book Ian Plimer charges the Greens with murder. They murder humans who are kept in eternal poverty without coal-fired electricity. They support slavery and early deaths of black child miners. They murder forests and their wildlife by clear felling for mining and wind turbines. They murder forests and wildlife with their bushfire policies. They murder economies producing unemployment, hopelessness, collapse of communities, disrupted social cohesion and suicide.
They murder free speech and freedoms and their takeover of the education system has ended up in the murdering of the intellectual and economic future of young people. They terrify children into mental illness with their apocalyptic death cult lies and exaggerations. They try to divide a nation. They are hypocrites and such angry ignorant people should never touch other people's money.
The greens are guilty of murder. The sentence is life with no parole in a cave in the bush enjoying the benefits of Net Zero.
Entry includes finger food and drink.
To book click here.
When:
Sunday February 20, 2022 at 3pm

Where:
Home of James and Patrice McKay, 34 Howard Street, Paddington Q 4064

Price
(includes finger
food and drink):
General: $35
Concession: $20
$5 discount for AiP members

Booking:
To book click here