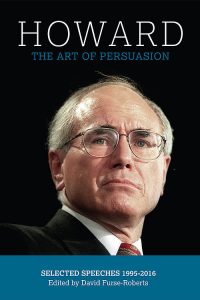 On Friday September 21 the Hon John Howard will launch his latest book The Art of Persuasion, Selected Speeches 1995 to 2016 over lunch in Brisbane. It will double as a fundraiser for the Australian Institute for Progress.
To book click here (Early Bird tickets are $165 with a $30 dollar discount for AIP members and $65 discount for students, and copies of the book are available at $49.95).
As Australia's second longest serving prime minister, John Howard knew how to run a good government, but he also knew how to deliver a good speech.
The essence of a good speech is that the speaker should have something to say which he is resolved to convey to his listeners in the simplest, most intelligible, and most persuasive language. Sir Robert Menzies, Australia's longest serving prime minister.

If you want to govern a free people successfully for four terms, here's how. John O'Sullivan, former speech writer to Margaret Thatcher, Britain's longest serving 20th Century prime minister.
He could convey more in a single speech than lesser politicians articulate in a lifetime. Through tragedy, discord and triumph, he addressed the mood of the nation with uncommon good sense. This selection is a reminder of the values and conviction that made our second longest serving prime minister such a persuasive orator.
| | |
| --- | --- |
| When: | Friday, September 21, 2018, 12:00 pm for 12:30. Ends at 2:00 pm |
| Venue:  | Tattersall's Club, 206 Edward Street, BRISBANE Q 4000 |
| Cost: | Early Bird Price (get in before Septembe 12, 2018) $165 per head ($135 AIP members, $100 AIP students) for two course meal and drinks. Books can be purchased for $49.95 each. |
| Bookings: | To book, click here |