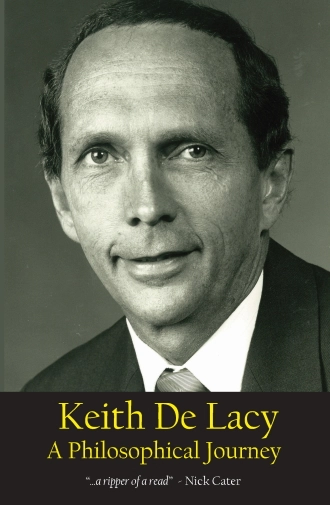 Keith DeLacy's life starts in an earth-floored shanty on a North Queensland cane farm with communist parents. He goes from there to the glittering towers of corporate Queensland through the portals of agricultural scientist, tobacco farmer, underground miner, newsagent, member of parliament and state treasurer.
While DeLacy rises high he is completely grounded, and his wry humour and sense of context infuse this book which is a tour of late 20th Century Queensland politics, along with his ideological development as he is "mugged by reality".
As state treasurer DeLacy preserved the reputation of Queensland for balanced budgets and shrewd economic management. As a company director he was involved with a large number of entrepreneurial companies, including Macarthur Coal which listed and $128 million and eventually sold for $4.9 billion.
DeLacy's story runs parallel to Queensland's which went from Cinderella to belle of the ball over the period from 60s to the present, at the same time DeLacy went from young adult to statesman and author.
To book email us at info@aip.asn.au.
When:
Thursday November 18, 2021 at 12:00 pm

Where:
Main Dining Room
The Brisbane Club
241 Adelaide Street
BRISBANE QLD 4000
(Discounted parking available at Post Office Square and MacArthur Central)
Price
(includes two course lunch and drinks):
$120
Booking:
To book email us at info@aip.asn.au