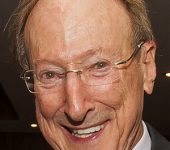 Ron Manners isn't lonely because he lacks friends. He's lonely because the principled pursuit of economic excellence by empowering individual effort and enterprise (which he terms libertarianism) is the least likely way to buy public favour, but the best way to favour the public.
His latest book The Lonely Libertarian will be launched in Brisbane by Hon Campbell Newman, former premier of Queensland and Lord Mayor of Brisbane
To book click here.
As chairman and founder of various mining companies Ron, through hard work, has been successful and is turning this gold into human capital through his Mannkal Economic Education Foundation which provides scholarships to young people to study classical liberalism.
Ron's career includes being a founding member of the Workers Party, founder and chairman of Croesus Mining (at one stage Australia's largest gold miner), and emeritus chairman of the Australian Prospectors and Miners' Hall of Fame.
He is also a member of the Mount Pelerin Society.
This is an opportunity to meet one of Australia's most exceptional citizens, and an official "living legend" (2011 inducted into the Prospectors and Miners' Hall of Fame).
When:
August 26, 2019 at 6:00 for 6:30 pm

Where:
AIP Auditorium, Unit 2B, 50 Logan Road, Woolloongabba Q 4102
(Plenty of parking either on site or on street)

Price:
General: $25 ($20 early bird)
Member: $20 ($15 early bird)
Student: $10 ($5 early bird)

Booking:
To book click here.