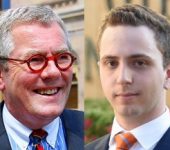 In February 2016 QUT Administrative Assistant Cindy Prior sued three QUT students for comments made, or allegedly made, after she evicted them from the computer lab at the university's Oodgeroo unit in May 2013. On November 4, 2016 Federal Circuit Court Judge Michael Jarrett ruled there was no case to answer.
As a result of this litigation the reputation of the Human Rights Commission, together with its president, Gillian Triggs, was severely damaged; the case against Section 18C of the Human Rights act was re-opened by a Federal Parliamentary Inquiry; Cindy Prior went close to bankruptcy; and three young men had their lives torn apart over innocuous comments.
One of those men, Calum Thwaites, is a member of our institute, the Australian Institute for Progress. He, and Tony Morris his counsel, will give us the inside story, and what it means to be an accidental hero in the fight to ensure that Australians continue to enjoy the right to free speech and equal treatment under the law.
Cost: $55 per head ($45 AIP members, $20 AIP student members) all inclusive of canapes and drinks.
To book, click here.
Save
Save
Save