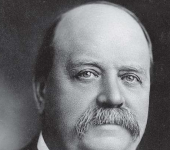 Luke Walker has written an insightful short book about George Reid, fourth Prime Minister of Australia who as NSW Premier was one of the Fathers of Federation. An ardent free-trader, he was initially on the losing side of the argument with the protectionists, only to be vindicated by posterity.
As Australia's first High Commissioner to London, Reid made sure that Australia's contribution to World War One was well and truly recognised by those in the British establishment. Although Scottish born, Reid was a proud Australian. He set an early example for us all.
Luke Walker graduated with honours in law and arts, and his thesis on Reid forms the basis for this book.
Piss and Wind will be launched by Dr Christian Rowan. Dr Rowan is the Shadow Minister for Education, a portfolio which Reid held as minister in NSW between 1883 and 1884 when it was called "Public Instruction".
To book click here.
When:
Friday October 8, 2021 at 6pm

Where:
AIP Auditorium, Unit 2B, 50 Logan Road, Woolloongabba Q 4102
(Plenty of parking either on site or on street)

Price
(includes finger
food and drink):
General: $20
Concession: $10
$5 discount for AiP members

Booking:
To book click here