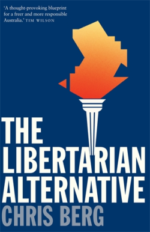 Chris Berg is a columnist with ABC's The Drum and  is a senior fellow at the free market think tank the Institute of Public Affairs. To book click here.
Libertarianism – the philosophy of government that pairs free market economics with social liberalism – presents a vigorous challenge and viable political alternative to the old Left-Right partisan shouting match.
Libertarianism offers surprising new solutions to stagnant policy debates over issues such as immigration and civil rights, and provides a framework for tackling contemporary problems like privacy, the environment and technological change.
In The Libertarian Alternative, Chris Berg offers a new agenda for restoring individual liberty in Australia, revitalising politics and strengthening our sagging economy.
Copies of the book will be on sale at the function with proceeds to benefit the publisher, the author and the AIP (probably in that order).
Function is $15 for non-members and $10 for members. Includes first drink. To book click here.
Save
Save