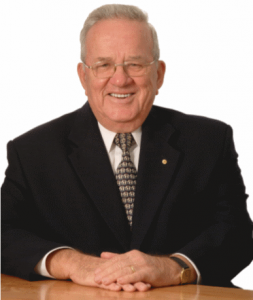 "Queensland: Where From, Where At, Where To"
Fourth Sir Thomas McIlwraith Lecture with Sir Leo Hielscher
Join the Australian Institute for Progress over dinner for the fourth annual Sir Thomas McIlwraith Lecture, with guest speaker Sir Leo Hielscher AC, on Wednesday evening July 18, 2018.
Sir Leo has unique personal insights into the development of Queensland through a career spanning 50 years of public service at the highest levels, including as Queensland Under Treasurer and Chairman of Queensland Treasury Corporation. During his career Sir Leo oversaw the transformation of the state from a rural backwater to an agricultural, minerals and tourism powerhouse.
AIP's lecture series celebrates an early premier of Queensland who transformed the state with railways, ports, immigration and industries.
Each year, the annual McIlwraith lecture honours someone who is making a practical contribution to Queensland by asking them to share their experiences and philosophy.
Date:
Wednesday July 18, 7:00 for 7:30 pm
Venue:
Grand Ballroom, Tattersall's Club,
215 Queen Street, Brisbane, Qld 4000
Cost:
$185 General Admission
$165 AIP Memembers
$1650 Tables of ten
$120 Student
Book:
To book click here