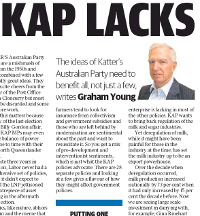 Katter's Australian Party policies are a mishmash of ideas from the 1950s and before, combined with a few potentially great ideas. They might excite cheers from the front bar of the Post Office Hotel in Cloncurry but most need to be discarded and some need more work.
And this matters because courtesy of the last election and the Billy Gordon affair, the two KAP MPs may even hold the balance of power from time to time with their fellow north Queenslander Gordon.
Despite three years in opposition, Labor never had a comprehensive set of policies, because it didn't expect to win, and the LNP jettisoned their centrepiece of asset recycling in the aftermath of the election.
Politics, like nature, abhors a vacuum and the meme that "something must be done and this is something" is so powerful that one could easily see KAP policies implemented for lack of any other.
Whatever the merits of the policies, they are mostly self-interested in that they are matters which affect people in Rob Katter's Mount Isa electorate and Shane Knuth's Dalrymple.
Rural areas have been on the forefront of social change for more than 100 years. The price for farm produce has tended to fall in real terms, leading to mechanisation and farm amalgamations and the depopulation of towns in the chase for greater efficiencies.
Seasons can be fierce, so farmers tend to look for insurance from collectivism and government subsidies and those who are left behind by modernisation are sentimental about the past and want to resuscitate it. So you get a mix of pro-development and interventionist sentiments, which is just what the KAP policies advocate. There are 28 separate policies and looking at a few gives a flavour of how they might affect government policies.
Probably the best and most innovative is to provide freehold title to Aborigines in communities. The bedrock of any functioning modern society is capital accumulation and individual initiative, both of which are facilitated by home ownership. Collective land ownership has been holding Aboriginal welfare back.
But this faith in individual enterprise is lacking in most of the other policies. KAP wants to bring back regulation of the milk and sugar industries.
Yet deregulation of milk, while it might have been painful for those in the industry at the time, has set the milk industry up to be an export powerhouse.
Over the decade when deregulation occurred, milk production increased nationally by 73 per cent when it had only increased by 15 per cent the decade before.
Now we are seeing large-scale investment in dairying with, for example, Gina Rinehart and her Chinese partners acquiring properties in Queensland for the dairy export market. This makes business sense as the best dairy farms get returns on assets of about 20 per cent (up there with owning a bank).
But Queensland still has a long way to go, with our costs of production the highest in the country and almost double those in New Zealand, where dairy exports are a major driver of the economy.
But KAP are presumably not too happy with Rinehart's investment as their policies also state that "co-operatively owned initiatives in water and agriculture (should be) favoured over corporate/foreign ownership".
In effect, they're saying: Please take that corporate, partly foreign-financed $500 million you intend to invest in Queensland dairying away – we'd rather go back to the old model where no one makes a decent living, or much milk.
This insistence on knowing what other people should do with their money better than they know themselves runs through several KAP policies. Such as wanting to ban 100 per cent FIFO operations on mines – a policy aimed at propping up stagnating rural communities rather than building wealth for all. They also want to prop up failing rural businesses by extending concessional loans to them through a new government bank. This has been tried before. In the 1990s, the QIDC was folded into the Suncorp float with $3 billion worth of assets, many of which were impaired. It was the cheapest face-saving way for the state to exit the debacle.
So far, the KAP has already had one success, with the state deciding to mandate 10 per cent ethanol in fuel.
Putting one person's meal into another person's fuel tank is not a sustainable solution in a world expecting to welcome another 3 billion people by 2050. But it does prop up the price of sugar and wheat.
KAP doesn't have party status (another sore point with the outfit), but it does deserve much closer scrutiny.
Queensland needs development and new ideas, but they have to benefit all of us, not just a few.
Originally published in the Courier-Mail May 15.