Former Queensland Under Treasurer Sir Leo Hielscher might be 91, but he is definitely "not out" yet. His McIlwraith Lecture (read it here) sparkled with commonsense, leavened by long experience.
He conducted an historical travelogue of Queensland's development from being Hicksville in the 60s to the modern state it is today, and how this was done by recruiting new talent into the public service, attracting new industries and using their capital to build infrastructure, and ensuring debt was as small as practical.
Then he looked at the state of play today, which he condemned, before looking to the future, suggesting that we need new industries, that Adani should go ahead, a new low-emissions coal-fired power station built, and dams built east of the Great Divide to irrigate crops west.
Three of the treasurers under which he served were there – Andrew Fraser, Joan Sheldon and Keith DeLacy.
Media followed with coverage on The Australian's front page (continued inside) and an editorial as well as online. The Courier Mail gave us the first online coverage, and followed-up with a piece in the paper the day afterwards. We were also covered by the Brisbane Times, the Townsville Bulletin, and the Sydney Morning Herald (the last two were most interested in Sir Leo's rejection of government money going to Adani).
I was particularly taken by the line from the speech most of the media took up, where he said, with respect to the state's debt "Sorry grandkids, sorry kids," which echoed my own analysis which was: "Queensland budget: thank your kids, they'll be paying".
Attendance at the function was 161, which is a record. Much of this success is due to the guest speaker, but also to David Drake, the AIP member who organised the table captains. Next year we are looking to do much better, and if you would like to organise a table, please let me know by emailing me graham.young@aip.asn.au.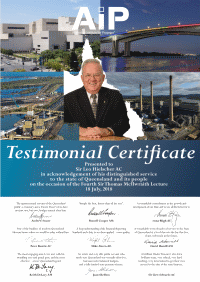 Richard Roberts, an Institute member, and former treasury employee under Sir Leo, also organised a certificate of appreciation with references from all those treasurers  still living under which Leo served. This was presented at the end of his speech and questions.
There were a lot of photos taken of the function, so check out our Facebook page to see whether you are there. We'll be adding photos gradually, so if you're not there at first, please check back. And if you have photos you'd like posted, let us know.